After returning from the Galapagos we wasted no time in arranging for a tour of Mindo in our final days before flying out of Quito. Mindo is a cloud forest and on top of having read about it in the guidebook, it was recommended to us by a couple we met at the airport on the same flight as us who had been living in Quito for a couple years. It's a popular pick for bird watchers since you can see lots of exotic birds that are near extinction. There's also a butterfly farm, a chocolate factory, zip lines, tubing, and a cute little town.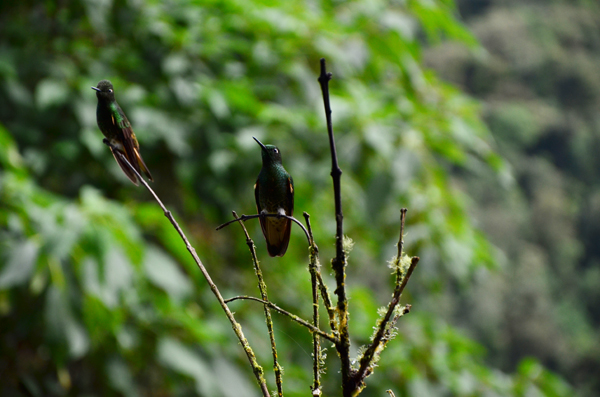 Excited at the prospect of seeing some more wildlife and a rich forest after the barren landscapes of the Galapagos Islands, we set something up with Luis Tipan, who had helped us with the arrangements for our previous Galapagos Cruise.
I have to admit, I was somewhat disappointed in the tour. For $45USD/person (So $90 total) we essentially got a private car. Our guide needed quite a bit of prompting to tell us anything about the area, and he drove us to various places but didn't provide much historical or geographical information. Given that I had read guidebooks saying you could hire a private car to Mindo for about $45USD, I feel we got a raw deal on this tour.
Out on the drive to Mindo we did a brief stop at a cafe that our guide seemed to be friends with the owner of. We took photos of hummingbirds while our guide chatted to his friend. It was about this time that I noticed my camera wasn't focusing correctly – at all. I had to switch to my 50mm prime lens, which meant I had to get really close to these little guys – it's a wonder they let me!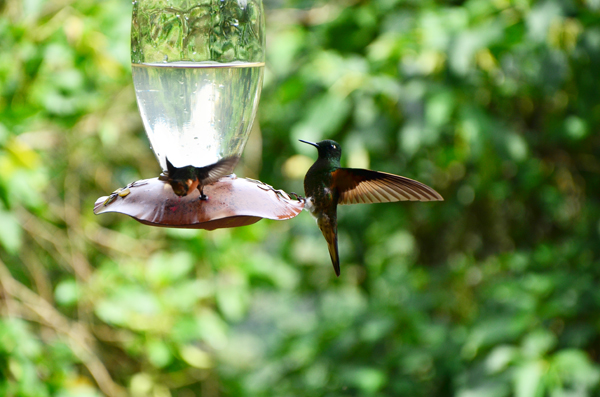 After a quick coffee, we were back on the road on our way to the forest. A cloud forest, as our guide explained, refers to a forest that has it's own weather system whereby clouds are formed due to the heat and intense humidity. Our first stop in the cloud forest was a zip lining adventure with 10 zip lines, allowing us to soar over the forest and see the canopy from above. There appeared to be 3 companies that offered different zip line adventures in Mindo, but our guide steered us to one particular one assuring us it was the best and safest (though all 3 had the same advertised double line safety). For $20USD each, we were hooked to several lines and zoomed around.
After the zip lining we went for a quick hike to see the waterfalls. Since we live in British Columbia we're pretty spoiled when it comes to waterfalls so these weren't that impressive, but it didn't stop Jordan from taking the opportunity to go for a quick dip, only to immediately realize that the current was so strong that he had to hold on to the rocks to get out safely!
Unfortunately it immediately started to rain, which cut our little adventure short – though we were taken to a great little restaurant by our guide and ate an awesome meal for a ridiculously cheap price compared to what we had seen in Quito. We hopped back in the car, soaking, and headed to the Mitad Del Mundo – the equatorial line.
There's a museum that is on the exact, GPS measured equatorial line and they show off lots of different experiments. Supposedly you can balance an egg on a nail only on the equator – I wasn't successful.
They also show you how water swirls one way on the northern hemisphere and another way on the southern hemisphere, and how directly on the equatorial line it just flows straight down. We both knew this was totally rigged, but it was amusing how they tried to show the differences in balance when standing on the painted red line that was meant to mark the center of the earth.

It was still pretty cool to be able to stand between the northern and southern hemispheres.
---
COSTS:
Tour Guide/Transportation: $90USD for 2 people
Zip Lining in Mindo: $40USD for 2 people
Mitad Del Mundo Museum: $8USD for 2 people
Lunch: $15USD for 2 people (approx)
Waterfall Hike: $4USD for 2 people (approx)
Approximate Total: $157 for 2 people
Value for Money: 2/5 (If I did this again, I'd do it on my own without a guide, which sucked up a ton of money for very little value).