It's a strange thing when I feel like sleeping in, and Victoria suggests waking up at 3:30am for two hikes and a swim in the Dead Sea, but that's just what happened  one day in Jerusalem.
High up overlooking the Dead Sea there are the ruins of an old Jewish settlement called Masada.
The people of Masada are famous for being one of the last bastions of resistance to the Roman empire, many of the inhabitants choosing to be killed or commit suicide rather than live under Roman rule.
It was for this site that we set off at stupid-early in the morning from Jerusalem.  While only about a one hour drive, we still needed to eat, make it to the car, and ascend the mountain.  All this and the sun rose at 5:45am.
There are tons of tours that will do a morning hike in Masada, followed by a dip in the Dead Sea and a visit to Ein Gedi. We decided it would be cheaper to rent a car and do it ourselves, since the car rental was only about $45, and this also meant we could choose where in the Dead Sea to go (more on that later).
We were by no means the only people at the bottom of Masada at 5 am when we arrived. A row of tourists trudged up the 300-odd meter ascent (in 2.5km) and were rewarded with a beautiful sunrise over the far away mountains sweeping through the vast valleys below.
We managed to get almost all the way to the top before the sun started to peek out, and had an excuse to take a break and snap a photo.
Upon reaching the top, we were able to have a look around – the settlement had been partially rebuilt to show you what the Romans had destroyed and what it would have looked like almost two thousand years ago. There was a black line indicating throughout the ruins where the restoration had happened and what part was original.

The terrain at the top of the mountain on which Masada's settlement sat was rocky and desert-like. It looked like what you'd imagine Mars to look like. Sweeping valleys and mountains of red, crumbling rock.
After exploring Masada, we decided to continue on to bathe in the Dead Sea before attempting our second hike of the day, at Ein Gedi.
It was pretty hot by the time we came down from Masada so we were craving a refreshing dip. The Dead Sea was an important place for Victoria because it's been receding at a rate approximately 1 meter per year, and she was worried that by the time she finally made it to its shores, they'd be gone. It also happens to be the lowest land elevation on Earth.
Choosing where to visit the Dead Sea is a bit strategic – if you want to walk in to the ocean through sand, not sharp rocks, you have to choose a particular part; but that means you won't be able to cover yourself in mud, which is apparently the thing to do in the Dead Sea.
After consulting a few guides we decided to visit the free Kalia beach for our swim. It had sand, and the water line hadn't receded to the point where you'd have to walk a huge distance to get to the actual water.
Floating in the Dead Sea is a very odd sensation.  You can't actually float upright as you're too buoyant and will tip over, so you have to float on your back.
You also have to be careful not to get any of the water in your eyes – it's over 30% salt and can burn.  Your skin feels like it has an oily film over it as soon as you get in the water, and you have to rinse everything off very thoroughly since the salt can damage your clothing (as well as dry out your skin).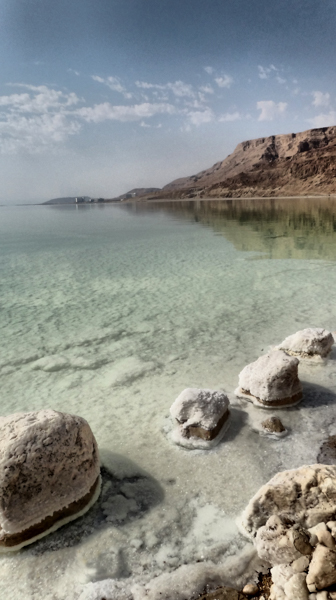 The rocks that are near the shore are all covered with crystallized salt, and once you get past the sandy shore and wade out a bit, you reach down and think you're grabbing a fistful of sand only to retrieve your hand from the water and see that it's pure salt.
We bobbed around for a while in the warm (hot tub temperature) water and then headed to Ein Gedi for our second hike.
Ein Gedi is an oasis on the shore of the Dead Sea.  Amidst all the desert were lush green palm trees and vegetation. There we were able to walk though the forest's many trails and bathe in a waterfall, hopefully washing off all of the salt from the sea!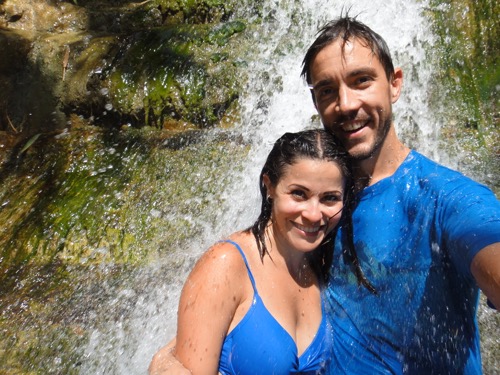 After Ein Gedi, we went back to for our second visit to the Dead Sea – this time to one of the 'muddy' beaches so that we could do what you're supposed to do there, and cover yourself in mud.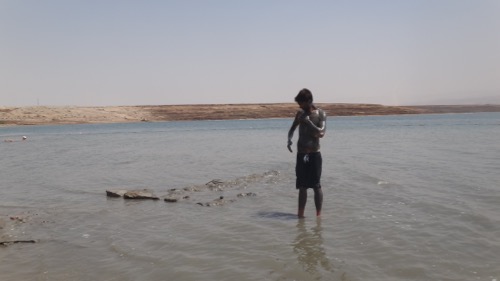 Though I was dubious, it's apparently quite popular with visitors, so we had some fun getting muddy.
If you can bear to sit with it until it dries, it's meant to leave your skin feeling soft and moisturized. Victoria outlasted me on staying mudcovered in the sweltering heat, but we both didn't make it all the way to dry mud – still, our skin felt soft-ish!