The idea of a cathedral made of salt sounded intriguing. I was so excited to see this place – it seemed so unique! An underground cathedral, carved into a salt mine? Wow!

We followed all the guidebooks' instructions and headed to the Terminal Del Norte to catch a bus to Zipaquira, where the Salt Cathedral is. We left at 8am and arrived there at around 11 – it took a long time just to get from our place to the north terminal.
From where the bus dropped us off we took a cab to the Cathedral entrance, paid the ridiculous COP$50,000 per person ($21.50CAD each) and began the tour. Our tour guide was a tiny girl who did an excellent job in explaining things and telling us the history of the mine and the cathedral. But despite that, the experience was a let down.
Why? It just seemed like a tacky tourist trap. We were first walked through several representations of the stages of the cross, which essentially were just the same carving of a cross into the salt mine with each stage the cross being sunk further and further into the ground. The guide would tell us to note how the squiggles and uneven stone was representative of the lashings Christ received, but honestly that seemed far fetched and more likely that they just didn't sand that area down. Each stage she would point out some detail that looked to be very much naturally occurring and say that it was intentional. It felt like she was waffling the way I used to in a grade 10 English class trying to convince my teacher that I had found hidden depths in whatever text we were studying.
The whole place was lit up with different colours while Ave Maria played in the background. By the time we made it to the 3 knaves, I was pretty unimpressed. I had expected a grand cathedral and what we were standing in was a giant cavern with some crosses carved into the rock. There were marble statues as well, but that just helped to make the whole thing even more inauthentic since the marble had been brought from Italy. If you're going to brag about your cathedral carved into a salt mine, maybe use that as your entire medium – otherwise it seems like you need bolstering.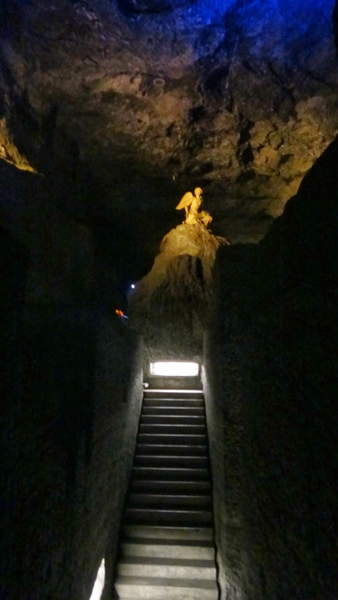 All in all I can't even think why someone would enjoy this place. I suppose if you're super religious you might, but it seemed like the hard rock cafe of cathedrals – just tacky things strewn together in the hopes that people will spend money there. I think their "commercial area" (also underground, and something you HAVE to go through in order to exit) is larger than the area of the cathedral – so that just confirms my suspicions that this place is a tourist moneygrab and nothing more.

If I had known before going what I know now, I would never have bothered and we would have been able to enjoy a day in Villa de Leyva instead. Definitely a swing and a miss.
---
COSTS
:
Transmilenio to Terminal Del Norte: COP$9000 ($3.89 CAD) for 2 people
Bus to Zipaquira: COP$9600 ($4.15CAD) for 2 people
Taxi to Salt Mine: COP$5,000 ($2.16 CAD) for 2 people
Entrance to Salt Mine: $100,000 ($43.23 CAD) for 2 people
Taxi back from Salt Mine: COP$5,000 ($2.16 CAD) for 2 people
Bus back to Bogota: COP$9,600 ($4.15 CAD) for 2 people
APPROXIMATE TOTAL : COP$129,200 ($55.85 CAD) for 2 people, or $27.93 per person. Value for Money: 1/5 (Given I found the place to be a gawdy tourist trap, I definitely didn't find any value in it. Transportation to Zipaquira was cheap, but even for a sight worth visiting, $21.50 per person entrance seems a bit steep, especially for Colombia).