Several times in our trip Victoria said 'no ha visto nada si no ha visto Granada' or something like that. It was a saying of her grandfather's which means 'you haven't seen anything until you see Granada'.
Granada the city is nice in it's own right, and one of the things that everyone we spoke to loved about it was it's moorish influence. However having just come from Morocco, haggling in Marakech and Fes, riding camels in the Sahara, and relaxing in Essaouira and Chefchaouen, we were over the moorish influence. The city is beautiful, but we were hoping for a change!
The one exception to our disappointment was the Alhambra. Covering over 10 hectares(about 25 acres), it's a massive fortress/complex/palace built between 889 to 1492 CE. It's quite an amazing feat not just for the size, but also for the amazing design and artwork on and in the buildings.  Even though this was similar to the palaces we saw in Morocco, we still had room for awe.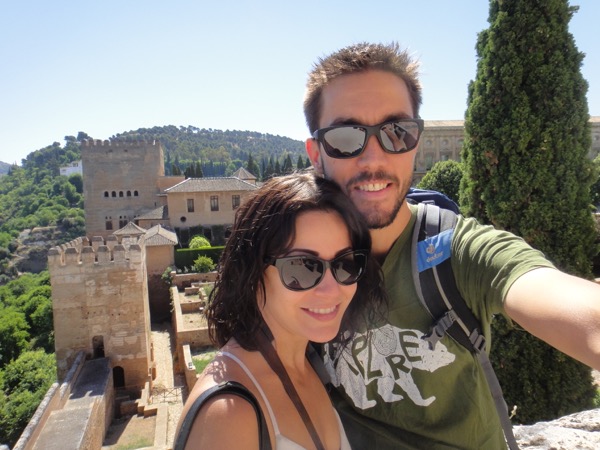 Beside the Alhambra is the Generalife, which is a massive garden, and an oasis from the heat of Granada.  It has an an impressive array of fountains, including one carved into the bannister of a 3 storey stairway, and quite a lot of greenery.
While in Granada we also took in some Flamenco – this was in a vaulted underground Flamenco bar called Le Chien Andalou(the andalusian dog).  It was only a guitarist, singer, and dancer, but it was really impressive.
Finally while in Granada I took the opportunity to do a run/hike up to the Alhambra, and through the dehesa Generlife, which is a giant parkland overlooking Granada and the Sierra Nevada.