While not on most backpackers or budget world traveller's lists due to the expensive nature of Dubai, we ended up there during a visit to my sister, brother-in-law, and niece. While Dubai is unfortunately high on the beer index (a cheap beer being about 15 CAD in most places!), it does offer several things to do and see for the budget-conscious traveller, and having a free place to stay sure helped us.
Dubai Museum
A little worn out, but still worth the visit, especially for the low price of 3 Dirham(about 1 CAD). The museum exhibits the progress Dubai has made from a disparate group of Emirates to the futuristic city it is today. Another plus is that it's mostly underground, and very cool on a hot day.
Touring the souks
Dubai has several souks or markets that you can wander around, and I would definitely recommend seeing them. They're grouped into similar areas like the spice souk or the gold souk, and the sheer number of assembled offerings can be overwhelming.
After touring the spice souk, we took a rickety motorboat across the creek (one of Victoria's favourite experiences).  This led us  to the gold souk, which was one of the most impressive that we saw.
There seemed to be nothing you could imagine that they hadn't made using gold, silver, diamonds, or all three.

These souks are best toured after 4pm, as Dubai is just too hot to be wandering around before then unless it's winter.
Dune Bashing
Our biggest splurge of the trip by far was a trip into the desert. Several different companies offer you a 4WD car (complete with roll-cage) that will take you into, over, and around sand dunes, making you think that the driver is somewhat insane. This ride will eventually end up in the middle of the desert, where you can try sandboarding, get your picture taken on a camel, smoke some shisha, and eventually be treated to a dinner and most likely belly dancing.
Victoria and I passed on the camel photo, and sadly didn't get enough time to try the sandboarding, however the dinner was delicious, and the dancing very impressive.
The malls
Finally, what Dubai seems to be mostly about is big buildings and bigger malls, and giant hotel complexes. The hotels are not large because they have a lot of people staying there; they are large because you can't serve alcohol in Dubai unless you are connected to a hotel. You will often find large numbers of bars connected to a single hotel. This is also where you will find all the expats!
While Victoria and I aren't travelling to see the world's malls, it was impressive to see the size of some of them in Dubai. Huge fountains, aquariums, and interactive displays dot the inside of these behemoths.
The most famous building in Dubai combines several of these features. The Burj Kalifa has a giant fountain with choreographed music displays every half hour, and is of course attached to Dubai Mall.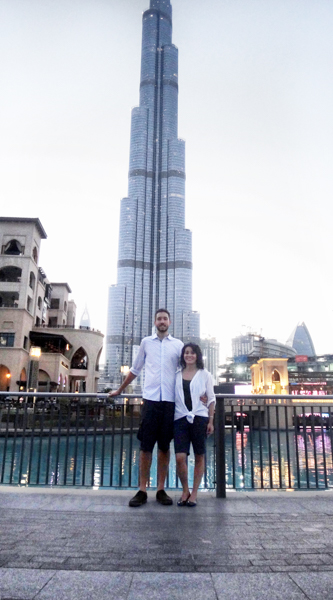 If you're not impressed with the awesome size of the malls and towers, you can at least rejoice in the free air conditioning!
The food
Dubai has some amazing food offerings. While in Dubai we ate at several Persian restaurants that were delicious. While those that cater to expats(i.e. those that serve alcohol) can be quite expensive, we saw a toured that had some amazing offerings.