If you've read my other posts regarding the Sahara you will have learned that I wanted very much to drive from Marrakesh to Merzouga and arrange a camel tour when we arrived – but unfortunately that wasn't in the cards.
So after poring through hundreds of different tour companies all offering the exact same tour, we went with one that came recommended by a couchsurfing host we had met up with who had said he recommended this company to all his couchsurfers.
The company's name is "Esprit D'Aventure" and I strongly urge you not to book a tour with them.
Most people on tripadvisor said that their visit to the Sahara was the highlight of their trip to Morocco. Most warned about a few nuances worth being aware of, but over all most reviews were positive about practically every company running this gambit – the aforementioned one included.
Unfortunately our experience with the company was pretty darn lackluster, from start to finish. So much so that I wrote a pretty detailed review on Tripadvisor myself.
Here's the itinerary we followed:
Morocco Tour from Marrakech to Desert Merzouga Dunes ( Erg Chebbi 3 Day )
Day 1 : Marrakech – Tizi -n-Tichka – Ait Benhaddou – Ouarzazate – Dades Valley / Gorges 
Day 2 : Dades Gorges – Tenghir – Todra Gorges – Tinjdad – Erfoud – Merzouga (Night in desert) 
Day 3 : Camel trekking back to Merzouga – Atlas Mountains – Back to Marrakech
The Tour
Day 1: 
We got off to a bad start when we were told that we'd be picked up at 7am sharp from our hotel and by 7:30 no one had shown up. After a phone call and a confusing reassurance at 7:30 we continued waiting until around 7:45 when some guy knocked on the door of our Riad and said
"Hey, you want to go to the desert?"
He led us out of the medina to a 18 seater bus that was waiting for us – we're pretty sure that the driver just paid some random dude to fetch us.
We got in that bus with no greeting nor word of apology for the lateness from the driver or the random guy, and were taken to a gas station where we were transferred to another bus with 12 other people. Again, no greeting from the 'guide' on this new bus, and we set off. As the last ones on the bus (thanks to the lateness) we got stuck in the back. That makes for a bumpy ride.
Throughout the journey on this first day the driver would pull over several times at all the different points in the itinerary, saying:
"You take picture here"
No explanation of what we were looking at, no information, and above all not even an ounce of courtesy or politeness. Maybe that's just the Canadian in me, but seriously. By the end of the first day everyone in the group had started to comment amongst ourselves at how much of a jerk the driver was. I know there was a language barrier posing part of the problem, though he seemed to speak English, but it seemed like he was just an unhappy dude – I swear I could see the rain cloud following him along as he shot his glares and snaps at us.
The thing is, we're on a tour. This guy works in the tourism industry. Where talking to people is pretty much 90% of the job. So how he ended up driving a bus full of people around for 3 days when he had absolutely no love of the job, no enthusiasm for the country and no basic social skills is beyond me and speaks more towards the company that hired him, opting for this grumpy chauffeur over an actual licensed guide who, you know, likes people.
Maybe it was camaraderie in our shared experience or our group sentiments towards the driver, but the whole lot of our tour group seemed like an awesome bunch. We had 6 Canadians, 4 of which were from Vancouver themselves, 2 of which were from Montreal; a Spanish couple of which the wife was from Argentina (and thus immediately became my soul sister); an Australian, a Brazilian girl, an Englishman who had Celiac's disease making his eating habits and requirements the topic of much discussion, and a Moroccan guy who actually lived in Germany, plus us 2.  I had been told by the agency that it would be 8-12 people since I specifically stated we didn't want to be in a huge tour group. We were 14.
All the stops on the itinerary were just stops. And by stops I mean short – less than 5 minutes – where we'd repeat the picture taking song-and-dance not knowing what on earth we were looking at, and piling back in the van and carrying on. People tried using their GPS on their phones to figure it out, but it would have been nice to at least know what on earth we were meant to be photographing.
For our lunch stop in a Berber village we were greeted by a Berber man who said he was to be our guide, but that we had to pay 2.5 euros (25 dirham) per person. Some people opted to not do this. I wasn't thrilled since I'd have expected any guiding to be a part of the tour – but we paid the amount and went with him. We were already invested, so we figured we may as well make the most of it.
The Berber man showed us the kasbah and gave some basic information, then took us to some shops that he obviously was friendly with, and left us in a restaurant that wanted 100 Dirhams for a set menu. We went across the street and literally paid half of that – the whole group of us, and waited for our bus driver to return since he hadn't given us any information other than:
"You go on tour. You have one hour tour. You have one hour lunch. I come back"
As the day wore on he seemed to become grumpier and less friendly. Eventually he seemed to be downright rude and mean. At one point, he 'shush'ed' me, which I found to be disrespectful (you don't tell someone to shut it, much less a client). When I say he 'shush'ed' me I mean that he and I were discussing the bus' seating arrangement and he signaled his hand to his mouth in a 'zip it' way that made me boil over in fury – this guy was making Moroccan men look bad – all at once he had managed to push all the buttons on a Western woman who expects to be treated like an equal, not like a subordinate who can be silenced with a single gesture.
It then became a running joke with our group that I shouldn't ask the guy anything since he'd be likely to abandon us or something if I did. He didn't like me, and it was painfully clear.
When we got to the hotel for the night he didn't want to give me our room key. We had to sign in, which we did, but he must not have been paying attention so when I asked for the key he demanded I sign in. When I told him I had, he made me show him, and seemed to be combative and gunning for an argument. I hadn't said anything other than indicating to the page where I signed in and he was already trying to start a fight.  I'm not exaggerating, even the Spanish couple witnessed it and cracked jokes about his obvious hatred of me later that night. Honestly, the guy was just a miserable rude jerk who had laser-honed his focus on me.
The accommodation provided on the first night was  pretty basic. There's no inherent problem with that – but it's important to be aware in case it's not within your comfort zone.
By basic I mean bare bones, the bedding wasn't clean, the bathroom didn't have a door on it (which made it hilarious when the 3 of the 4 Canadians were seen ambling around the hall and when asked why they weren't in their room they had to explain that one of them was using the facilities and would be 'a while'), the meals were small (we had a bowl of soup each and then one plate of salad and one tangine shared for every 5 people, no water/beverage) and the cutlery/glasses were dirty. The poor Englishman with Celiac disease looked utterly miserable when he asked for a clean glass in exchange for the dirty one he had been given only to receive another dirty one.
But, on the other hand, the people in the hotel were very friendly and welcoming – making a stark contrast to our angry driver.
Day 2:
On the second day we did a lot more driving and a lot less stopping. This led to a great deal of anger from our group when we stopped somewhere for lunch that had only ONE restaurant option, and it was a set fee of 100 Dirhams per person. This is double what most of us had been paying for food and we were not happy to have been given no option but to go to this restaurant that the tour obviously gets commission from.  The French-Canadian's staged a protest and didn't eat at all. I silently admired them as I chowed down on my over priced and pretty mediocre tagine.
We had another guy show up and inform us he was our guide – but he made no mention of money (until later when he asked us to tip him) so we all breathed a sigh of relief as he led us into the Dades Gorge.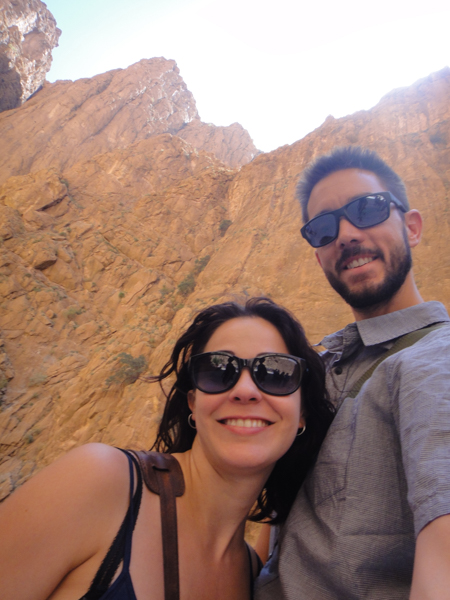 We reached Merzouga in the mid afternoon and had a bit of time to get ready in a small hotel at the edge of the desert. Everyone tied scarves around their heads to keep the sand out – and we're glad we did since the wind was kicking it up quite fiercely into our eyes.
We were led to our camels and loaded up, then led out into the desert in single file fashion, just as I had feared.
All the camels were tied to one another, single file. It was truly robotic. Jordan pointed out on the bright side that it was likely a more authentic experience since people traveled in caravans with tons of camels and in large groups when they crossed the desert for trade. That made it better.
After about an hour we arrived in the "camp" that was to be our space for the night. Many of us climbed to the high dune and enjoyed the view, waiting for the sun to set.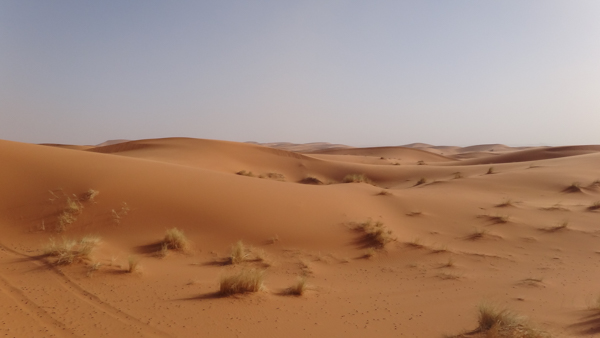 The wind was blowing really hard and sand was hitting every part of me – I watched myself, sitting at the top of the dune, slowly get buried by the wind.
At this time we were meant to be able to do sand boarding, but none of the guides offered it so Jordan and I contented ourselves with racing down the dune – which was much more fun than it looks.
For dinner we were served tagine – but one large tagine was shared with 6 people at our table, while 2 of the same size were shared with 8 people at the table beside us. Another group of tourists also appeared right before dinner and somehow joined our tour – now we were 18.
We enjoyed the evening under the stars and the Berber drumming. It was quite something to be able to lay on a carpet in the desert looking at a sky peppered with twinkling stars as drums beat in the background. I tried to take some long exposures but nothing was working for me so I gave up and just laid my head on Jordan's chest and stared upwards. I saw one of the longest shooting stars I've ever seen. It had been so long since I'd last seen a shooting star that I actually said "wow" outloud as it raced across the black sky.
I was one of the first to head to bed inside our little tent, which had trapped so much heat that I had trouble falling asleep in the sauna it had created. When I woke up and went outside I saw that there were a few of the mattresses outside – if I had known I could have slept under the stars instead of in that stuffy tent, I absolutely would have.
Day 3: 
Our wake up call was at 7am – and in the same manner that we arrived we left: we were shuttled back on to our camels, told to admire the sun rise while we headed back to the same place we left from and marched on through the desert.

When we arrived we weren't given the opportunity to shower (which we had been told we'd be able to do), so everyone piled back on the bus covered in sand to head back on a 12 hour drive from Merzouga to Marrakesh.
Luckily, the entire Canadian contingent (all 8 of us) weren't going back to Marrakesh. We were all, as luck would have it, heading to Fez, so we arranged to do this together. Rather than going with the overnight bus we split the cost of 2 grand taxis, costing each person 300 dirhams for the 6 hour drive (the bus would have been 170 each but taken 12 hours).
Final Thoughts:
The tour was shitty – but I loved it in spite of itself. I loved being in the desert. I loved enjoying the sweeping views of nothing but sand and having the theme song from "Aladdin" stuck in my head the whole time. I loved the people in our tour group and how we all laughed and made the best of a bad situation. I loved that I finally got to tick "Sleep in the Sahara Desert" and "Ride a Camel" off my bucket list – a double bill!
And I loved a lot of the photos I got that hopefully convey the peaceful, slightly dangerous in an "I-could-bury-you-alive"-kind-of-way serenity of the Sahara.