When I asked Jordan what, if anything, he wanted to see in Africa, his only reply was "Gorillas". I hadn't even thought about gorillas at all, but I had my own little wish list of places I wanted us to go. So since he had only one, I wanted to make sure we ticked it off the list, and made it a priority.
About Gorilla Tracking
For those who want to see the critically endangered Mountain Gorillas, our closest relatives (sharing 98.5% of our genes), of which only about 880 remain, there are 3 options. You can go to Uganda, Rwanda, or the DR Congo.
The last option is an obvious no-go, so between Rwanda and Uganda it comes down to an availability of permits and accessibility. In Rwanda the gorillas are in the Volcanoes national park, and in Uganda they're in the Bwindi Impenetrable Forest national park. You need a permit to go and track the habituated gorilla families, and those are often arranged months in advance (unless you do an organized tour that buys them in advance). The permits in Uganda are cheaper, at $600USD per person (while Rwanda is $750USD per person) [TIP: go in November or March and the Uganda permits are $450USD].
The overland tour we ended up selecting went through Uganda and took us on a gorilla tracking experience through the Bwindi Impenetrable Forest National Park. Impenetrable because it's so thick with foliage and canopy that light doesn't really make it in there.
The groups that set out on tracking expeditions are only 8 people plus trackers, rangers, and security (armed with AK47s, but not to shoot animals, just to shoot in the air to startle elephants that might feel like charging). So each group of 8 is assigned to a particular habituated gorilla family, and sets off in search of them.
It can take anywhere from 1 to 8 hours to find the gorilla family you're assigned to. The trackers know where they last saw the family the day before, but since they can move about from one day to the next, you could end up walking several kilometers.
Our Day Tracking Mountain Gorillas

As it happens, we ended up doing about 15.5km, with an ascent of 880 meters. I'm not going to lie, it was hard. The altitude gain was very abrupt so it felt like we were climbing straight up at almost an 75 degree angle (Jordan says it was closer to 45 degrees, but I don't believe him, despite the clear documented evidence, because I swear it felt like it was almost vertical).
But you forget all that when you catch your first glimpse of black fur hidden in the leaves.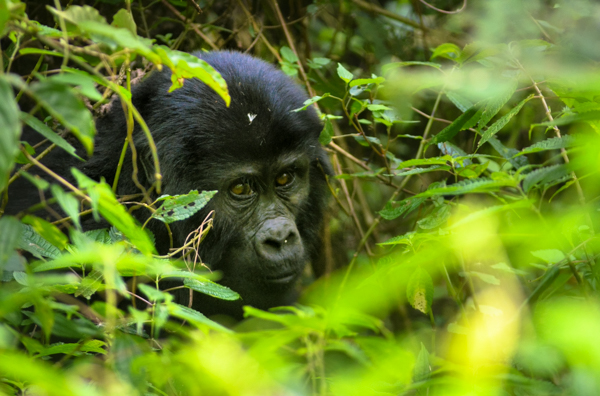 Once we were in the range of the gorillas we were given instructions on how to behave and what to do if a gorilla approached us. The trackers were in front of us the whole time leading us towards them, with scythes to chop the branches down so we'd get a better view. There was no trail here – so we were stomping through high foliage, slipping often while trying to walk up the mountain and not startle or upset the gorillas.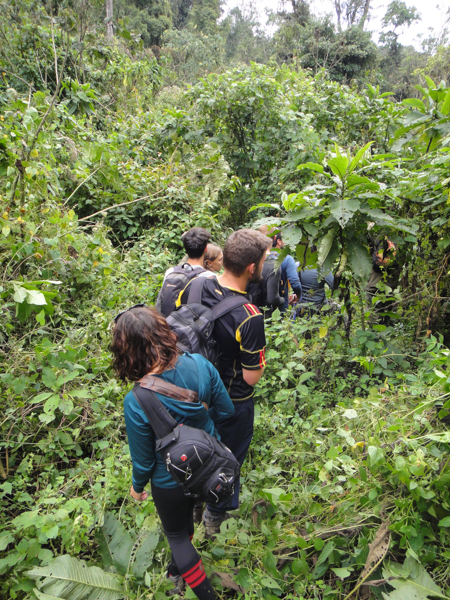 The first Gorilla we saw was a male silverback, the alpha of the family. He was casually snacking on shoots and leaves, and glanced up at us as we approached. He wasn't in the mood for company, and when the trackers got within a few meters of him he made it very clear that he wanted to be left alone.
Gorillas are not inherently violent. They don't tend to attack, but rather prefer to show their aggression with mock charges and sounds. This silverback did both, and all 8 of us jumped back (even though we had been told not to) as an instinctive response to an angry 200 kg male gorilla pretending to charge at us.
The alpha male is responsible for the protection of his family. He will put himself between any possible threat (be that a predator, human, or other gorilla family) and the rest of the group. He will also defend his family to the death.
We knew there were more gorillas around – adolescents and females – but this silverback wasn't letting us anywhere near them, so we'd only see the rustling of leaves behind him as an indicator that they were there.
The silverback got up and moved several times, trying to get away from the attention of our group, but the trackers slowly and carefully followed him, keeping us at a distance of approximately 5 meters.
That's how close we were to the gorilla. It was exhilarating and terrifying – every mock charge or hoot sent shivers up my spine as I concentrated on not falling while taking photos.
They told us he was in an agitated mood – it's a real crap shoot whether you're going to catch the gorillas in a good mood or not, and we seemed to have been unlucky in finding the moody male who really wanted to be left alone.
Eventually we came upon another male silverback, who was much older and quite habituated to humans. He just chilled out eating and letting us watch him. We were probably 2 meters away from him.
He looked at us as we looked at him, and I couldn't help wondering what he was thinking. Was he curious as to why these strange creatures were in his territory? What did he spend his day thinking about? Gorillas are one of the few animals that have been proven to have self awareness, so I knew that he was thinking something as he looked at us, and couldn't help myself from wondering what that might be.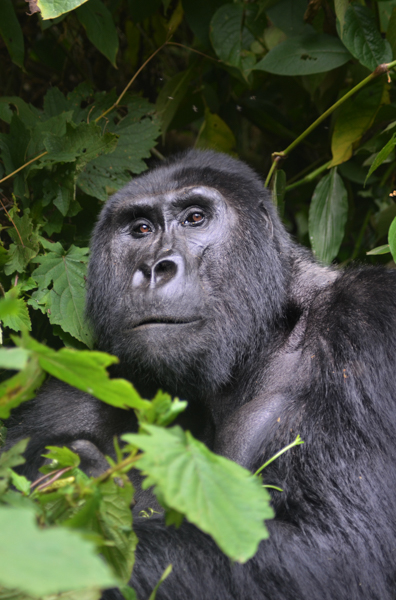 We carried on and came upon another adult male, but he seemed a bit more territorial than the chilled out old guy. At one point, he mock-charged and I was standing right at the front, 2 meters away from him with the guide beside me. It was complete instinct and reflex, but I jumped backwards and hid behind the guide, pushing him forward. At least we know how I respond in 'fight or flight' situations – cower behind someone better equipped to handle the situation!
Throughout the hour we spent with the gorillas we experienced several mock charges and warnings that we were getting too close. The guides heeded these warnings and would step back and allow the gorilla the space he was asking for. All the while, we were told to maintain the group and not spread out, as it made each one of us more vulnerable.
Nearing the end of our time with these great apes we met an adolescent male who was eager to show off. He swung on branches, perched, and played – very much aware that we were observing him and almost smiling for the cameras.
Eventually are allowed time with the gorillas was up and we retreated back the way we came, making our way out of the forest and back to civilization, where we were greeted by a group of eager kids who wanted us to take their picture.
Conservation of the Mountain Gorillas
Gorilla tracking doesn't come cheap, but considering there's only 1 gorilla for every 9 million people on the planet, I consider it a privilege that Jordan and I have been able to see them and share an hour with them.
Each permit grants you only 1 hour with a gorilla family, and this time is very closely monitored. The families are habituated – in so much that they are used to humans, but that's where familiarity stops.
The introduction of the permits for tracking the mountain gorillas has brought more awareness to these critically endangered apes, and has also helped to conserve their habitat.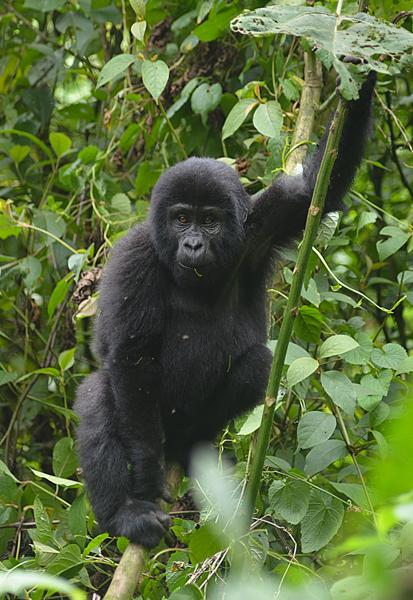 One of the biggest threats to the gorillas is the encroaching on their natural habitat by people in the area seeking land for agriculture. But the governments of Rwanda, Uganda, and DR Congo have kept the gorilla's volcano habitat off-limits to agriculture in order to protect the gorillas, largely because the revenue gained through tourism outweighs the value of using the park land for other purposes.
There are arguments against gorilla tracking, since it exposes the gorillas to human diseases which their immune systems are not equipped to cope with – but on the whole there are more pros than cons to gorilla tracking as a contribution to the conservation of our closest living relatives.