This morning we woke up at a decent hour (8am) so we could vist Las Grietas before the midday sun. After stopping off at the supermarket to buy some fruit, yogurt and pastries, we hopped on a little yellow water taxi, paid our 80 cents each, and were whisked off to the other side of the bay in Puerto Ayora.

Las Grietas is a stretch of inland crystal clear emerald green water at the bottom of an earth fracture. It's about 13 meters deep, 7 meters wide and 100 meters long. It's fed underground by a river from one end and ocean water from the other.
 The water is cool and brackish. There are cliffs of dark volcanic rock rising up on each side which make a dramatic contrast against the emerald green water.
It wasn't hard to find the place – the water taxi dropped us off at Angermyer Point and from there it was a more-or-less straightforward path that we followed through some forested areas, past a beach, and then upwards through a trail made of volcanic rock. The guide we looked at called the hike "moderate-strenuous" but we did it in flip flops. With the heat of the 9AM sun (yes, it was roasting) we were moving a little slower than usual, but it definitely wasn't tough and I don't think you need hiking shoes like the guidebook recommended. You're rewarded once you finish the final part of the trail, which is uphill, with the view of a beautiful emerald pool of water sandwiched in between two jagged cliffs.
There's a wooden platform you jump off since most of the rocks are quite slippery. Jordan didn't waste any time hurling himself in, though I stubbornly climbed down the rocks to avoid too much cold-water shock. It was definitely cold, colder than the sea that we swam in the day before, but ultimately refreshing.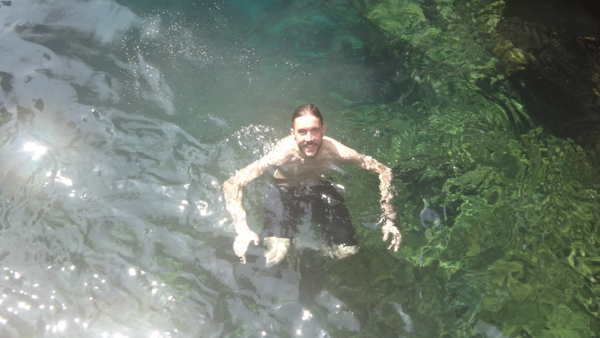 We spent about an hour swimming back and forth the narrow corridor, with our snorkels checking out the marine life – and eventually came upon a marine iguana, our first sighted since we got here.
We only had the place to ourselves (aside from a couple other people) for about 30 minutes – it seems we had timed things right before the rush of people, since by the time we left the place was packed and you couldn't jump in without potentially hitting someone. We wanted to leave at around 10:30 AM anyway since we didn't want to be out in the midday sun, having experienced it the last couple days and learned that from 11AM-3PM it's best to stay in doors or in the shade.
We slathered on some more sunscreen and headed back through the path to the dock, where we hailed a water taxi and were quickly shuttled back to the main port. As we got off the water taxi we noticed someone having a relaxing moment on a bench.

Now, you're not supposed to come within 2 meters of wild life in Galapagos, as it's a national park and conservation effort – but since this guy clearly wanted to hang out with the humans we made a quick exception for a photo. He had to have climbed all the way up the doc, up the ramp and then onto the bench – so he definitely knew what he was doing and where he was going. Especially since all his buddies were over at the other pier, that is not a human-laden hotspot.